7 Tips To Quickly Refresh Your Interior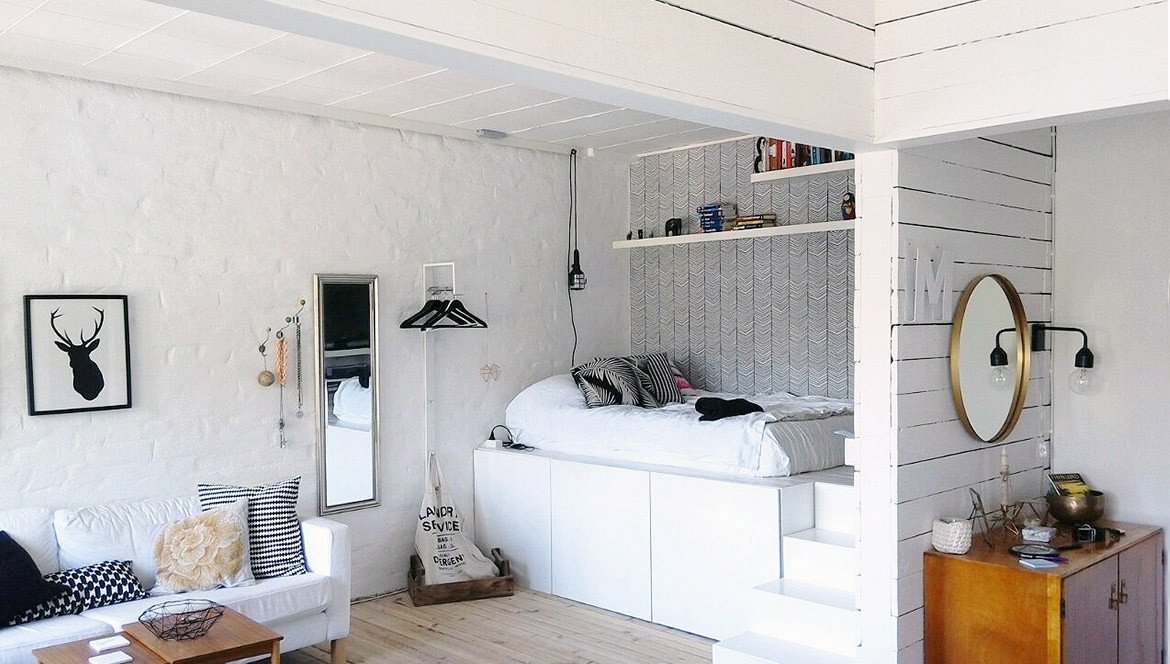 Do you wish more positive changes in your life? Refresh your interior! Just look at the photo of this tiny apartment in Helsinki, where I had the luck to stay with my husband for a couple of days. This cosy space made it to the pages of a Finnish interior decor magazine with zero euro paid to a professional designer!




Instead, the owner spent her budget on buying functional furniture and accessories, and carefully chose where to place what (who will find Mrs Matryoshka?). Motivating? Then take a piece of paper and sketch your apartment of change right now. And I will just give you some tips based on my own experience from across Europe as well as numerous articles in different languages.


Tip #1: Declutter!


Try to free yourself from unnecessary things! For most people living in the society of overconsumption, it is much easier to say than to do. Try to thoroughly revise all your stuff, especially all your storage rooms. Keep only the things that you really use on a regular basis. If not, maybe some of these things could make more sense to someone else? Donate them to those in need or, finally, sell…The next-year tip here: buy only stuff that you really need, that awakes emotions and - the last but not the least - that lasts long!

Tip #2: Change the colour of the walls to white or light neutral


Change the wallpaper or paint your walls in white or light neutral colours. This low-cost change will make your apartment look very modern. If the windows of your apartment overlook the northern side, then this is the most rational solution. Light walls always visually increase the space, which is especially relevant for small or narrow apartments. Another good idea is to choose an accent wall in each room & paint it in your favourite colour. In this case, try to choose the right colour for each room. Keep in mind that warm colours tend to pull the wall towards the eye, which makes a room appear smaller. Warm colours include red, orange, yellow, and brown (a warm neutral). Cool colours are thought to include blue, green, purples and often grey (typically a cool neutral) – and they, vice verse, tend to distance the wall from the eye.



Tip #3: Add
colourful

accessories



White and light neutral walls will let you move the main focus from walls to accessories. Choose your accessories with pleasure, try to emphasize your taste but do not overdo with their number and colour combinations! Search for unique pieces, but most importantly: never buy accessories that leave you indifferent! Accessories must reflect your interests and should be original. And if some rare accessory is financially difficult to afford at the moment, just try to make it or sew it yourself!

And two more crucial things here. Firstly, avoid accessories with a short life cycle. Examples? A cotton decorative cushion with a non-removable cover filled with a hollow-fibre filling that loses its quality after the first wash in a washing machine. Secondly, avoid buying something only because it is trending: a cactus imitating deco object that you will likely throw away as soon as a cactus falls out of fashion (unless you have always been a huge cactus fan of course!).



Tip #4: Don't be conventional


Always try to search for unconventional ways. For example, place some wall décor art objects such as a photograph or a painting on an easel or just lean it on the wall. Look for new perspectives and be sure to find them! Tip #5: Upcycle your old furniture If you still have some very old furniture you got tired of, try to upcycle it before you decide to throw it away: repaint, add necessary colour accents or add decoupage. And keep in mind: the more furniture pieces you buy, especially storage ones, the more things accumulate and the less space remains for you in the apartment! A minimalist apartment is also much easier to clean.



Tip #6: Grow indoor plants


Nothing refreshes the interior like nature, especially if you live in a big city. The indoor air will be cleaner and richer in oxygen. It is much easier to relax and relieve stress after a busy day in an apartment that has at least one little corner of wildlife. Try to choose plants by their utility: plants that clean the air from dust, germs and toxic substances are better suited to a city apartment. If your apartment does not overlook a busy street full of cars, you can even grow something edible inside an apartment or on a balcony (salads, etc.).


Tip #7: Turn your balcony into a place of relaxation


Of course, the climate in some countries is far from tropical, but this does not mean that the main function of loggias and balconies is storage. If you are a happy owner of a balcony or loggia, rescue it as soon as possible from a boring fate to serve as a storage room and turn it into a place for your relaxation. And if you need to store stuff on your loggia or balcony, then think about how you can build a bench, which would be at the same time a storage box, etc. Perhaps the biggest advantage of self-renovating the interior is the following: even if one does it step by step, one can get to know oneself better. And the interior will certainly become more original, reflect its owner's personality, his/her (perhaps completely new) hobbies - be it photography, sports or something else.


There is no better designer than you!


Besides these tips, numerous articles, materials and video tutorials on the Internet will certainly give you further inspirations.
Always keep in mind: there is no better designer than you to make you feel most comfortable and happy at home! Listen to your heart!
In Same Category
Related by Tags
Comments
No comment at this time!
Leave your comment